By Chris Amstutz
No Spoilers
The fall season inherently breeds uncertainty. Questions like, will the weather be 80 degrees and sunny, or 50 and rainy? Is the Stranger Things cast too old to be believable anymore? Or the most important, troubling question of them all, will natural gas storage levels be at unsustainably low levels to start the winter? The natural gas market is experiencing strange times but unlike when we last wrote this blog in 2018, the stakes are much higher. Natural gas fundamentals have evolved in to a Vecna like monster, with higher demand and prices that are now tied to global markets. Whether you're familiar with the hit Netflix drama Stranger Things or not, there is a similarity between the show's eerie, escalating drama, and the market movements today. The fall season is full of questions, but wondering if your business is protected from volatile NYMEX price movements should not be one of them.
So, what exactly is natural gas storage and why is it important? Like the upside-down world in Stranger Things, utilities and gas suppliers use underground storage to meet times of peak demand throughout the hottest parts of summer and most of the winter. Salt caverns, depleted aquifers, and old wells are physically injected with natural gas as a means of storage until the gas is needed in a high demand period. Over the last ten winters we have withdrawn a range of 1,532 BCF (2016) to as much as 2,965 BCF (2013), due to variability in weather and daily supply/demand balances. This year's storage situation becomes scarier than Vecna's killing ritual, when you account for the fact that the national storage level cannot fall below 800 BCF, to keep pressure high enough on pipelines. The fact is, weather variability is enough to drain our storage completely, opening up a "hellish gate" to high pricing for the NYMEX natural gas market.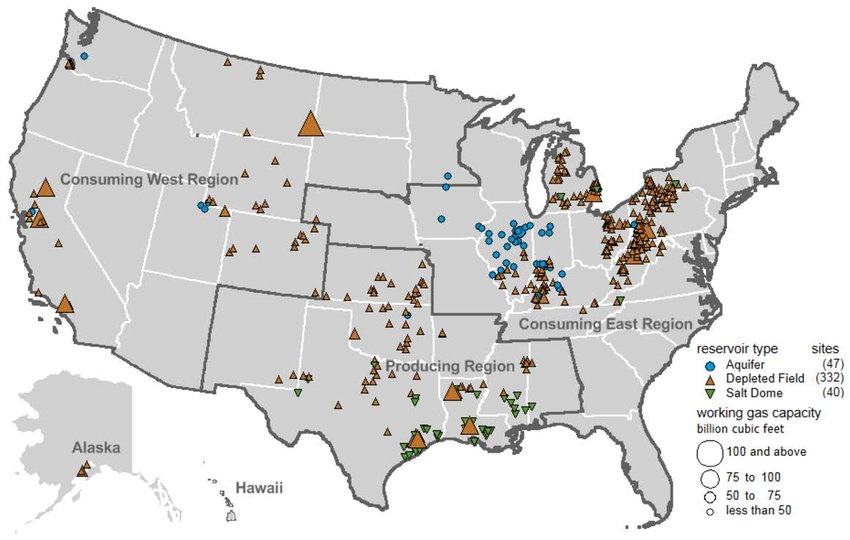 Whether you long for the nostalgic 1980 time period of the show, or a storage inventory level over 4,000 BCF, our situation is grave to say the least. We currently sit at a storage level of 2,694 BCF. This is 349 BCF (12%) below a five-year average that has continued to fall every year since 2018. We started the injection season at 1,382 BCF in storage, setting the tone for what has been the most bullish year in natural gas since 2008. As we discuss monthly in our Bulls and Bears Reports, natural gas supply & demand fundamentals have been increasingly tight due to unforeseen demand increases and a lagging rise in production. Power burn demand for electricity has averaged an additional 2.2 BCF/D (+5%) this year versus last year equating to 375 BCF in extra demand this summer. While this was partially offset by the loss of the Freeport LNG 2 BCF/D of gas exports on June 8th, it has still resulted in a net gain of 221 BCF of demand versus 2021. If Freeport LNG had been operational all summer, our current storage level would be below 2018's at 2,435 BCF holding all else constant.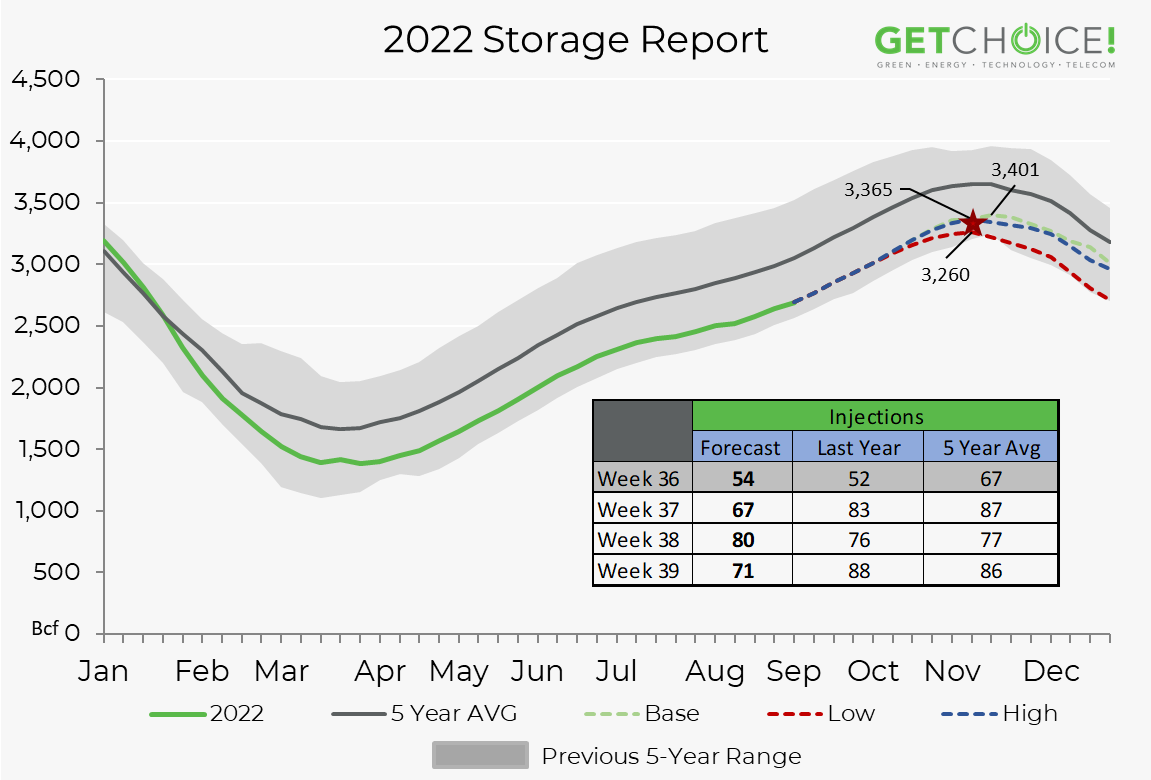 So, what is the implication of the natural gas market being in the 'Upside down' world? In a word, volatility. This line from the 2018 blog holds true today, but in the same way that Stranger Things villains have escalated through the seasons from Demagorgons to Mind Flayers to Soviet Russians, price trading ranges have escalated from $0.10 – $0.15 to now $1.00 – $1.40. The NYMEX 2023 Calendar strip has risen and fallen by over $2.00/MMBtu TWICE in the last month, on concerns for this winter. Supply constricted areas such as the Northeast and West Coast are experiencing even larger swings, due to lack of pipeline availability and exposure to global prices. While there is always the chance for this situation to moderate in the coming weeks, the fear of the unknown is currently showing up as a premium in pricing for this winter.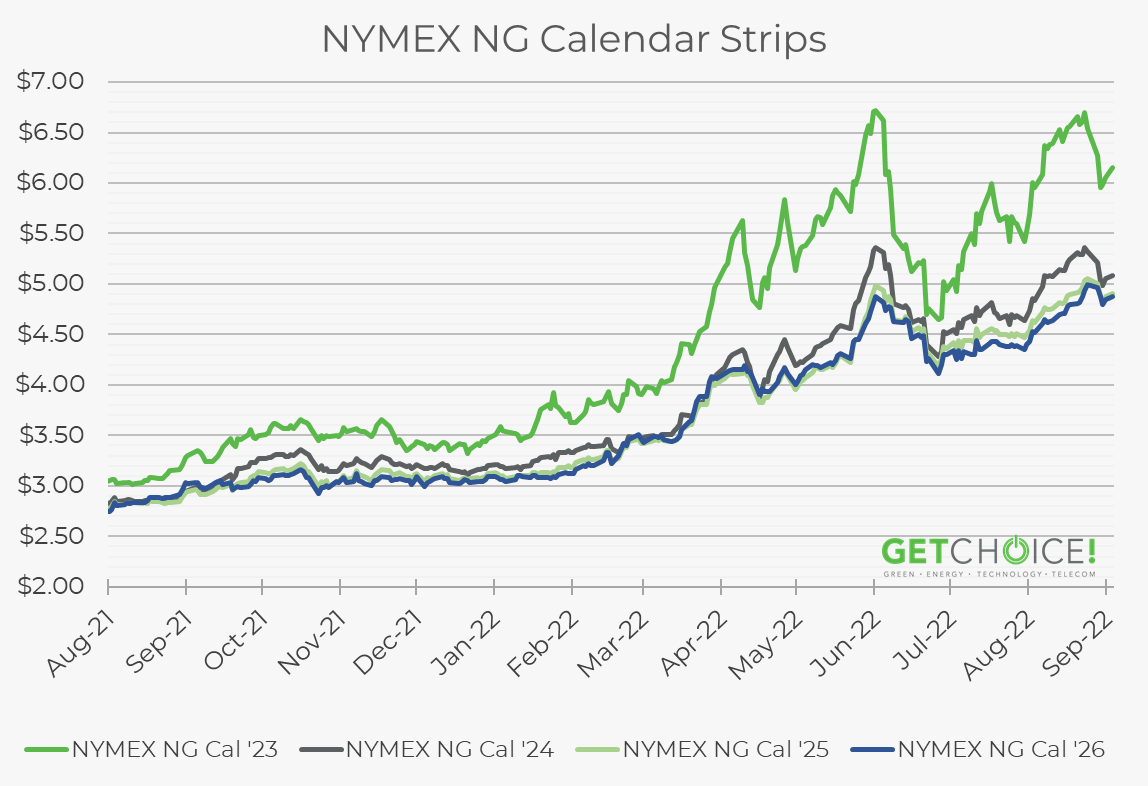 This time of year does not have to be genuinely scary, especially for those dependent upon the natural gas market. Whether storage levels or production records are in control, the market fundamentals are always in flux, and it takes a trained analyst to see what's coming next. With a flexible, comprehensive suite of energy management solutions, GETCHOICE! can help you keep the natural gas market underworld at bay.