By: Chris Amstutz
Natural gas and electricity markets are going through a fundamental change. These markets are coming of age and the idea of prices falling in the future is as innocent as a young Tom Cruise picking a fight with a hustler. Gone are the days of U.S. prices being sheltered from global influences, and here to stay is complex market structures with extreme price risk. Youthful exuberance, ignorance, and financial loss may be themes of the movie Risky Business, but they need not be adjectives describing your business's energy risk strategy. This blog will point back to our past risk management pieces to highlight just how risky this energy business can be.
In November 2020, we published a client-directed analysis of the NYMEX natural gas market and potential vulnerabilities heading into Winter. Our "Case for $5.00 NYMEX Natural Gas" largely agreed with EBW Analytics in that prices had the potential to rise substantially in the wake of COVID-19 induced supply destruction. It has been 10 months since this report and prices have behaved as predicted, rising over 100% to the $3.75 – $4.50 range. The storage level is also in line with these predictions, indicating that we will finish nearly 10% below five-year average levels. The COVID-19 induced chain of events have slid in wearing white socks, jamming out to "Old Time Rock and Roll" and a warm winter could be the only party stopper.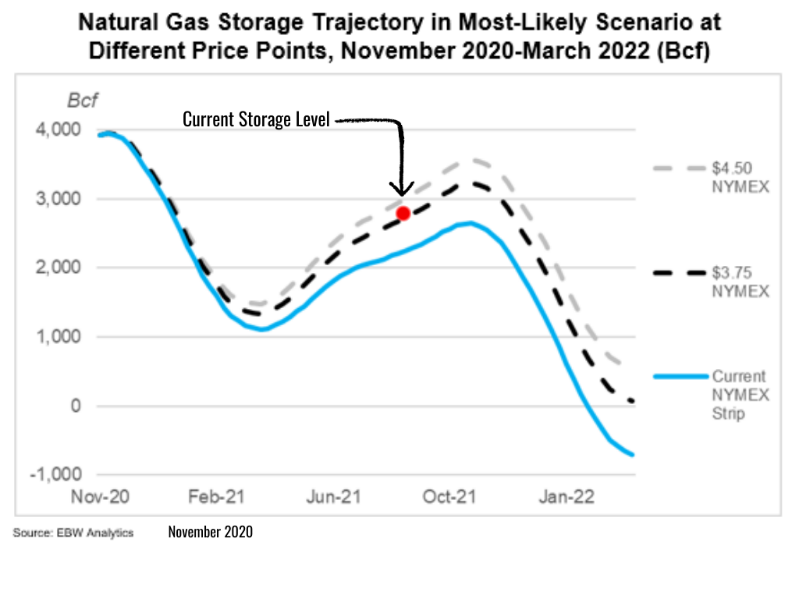 An example of the extreme nature of pricing at this time can be seen in Global Liquified Natural Gas (LNG) prices. All time highs in Europe and Asia are robbing businesses and end users worse than Joel Goodman was robbed of his Mom's Steuban glass crystal egg (and furniture). We mentioned the phenomena on LinkedIn here, and we discuss pricing on our LNG Monthly Update. Global prices have had a high correlation (0.95) to NYMEX Natural Gas prices in the last 3 months, and it is no secret we have entered in to a global era for natural gas. As U.S. exports climb to 12.5 Billion Cubic Feet per Day, these high global prices could lift NYMEX prices higher in 2022-2023.
The largest fundamental we see affecting the power markets in the next two years is the impact of renewable energy. The rate at which solar and wind generation have been incorporated in to the market has been staggering, with ERCOT alone topping 7,000 peak megawatts of solar and 20,000 peak megawatts of wind, totaling 15-20% of generation in the market. However, like running a brothel at your parent's house in the movie Risky Business, we worry that regional power ISO's have not fully priced in potential costs/consequences, stemming from such a rapid shift in generation. In the Pennsylvania/Jersey/Maryland (PJM ISO) and California ISO (CAISO), we are already seeing cracks in the market structure, revolving around the value of reliability given from coal and natural gas fired generation. While Choice! takes no stance on the morality of generation sources, we want to highlight that with any big change, there may be unforeseen costs in the future. Reviewing your risk tolerance for future power prices can help mitigate future price increases in the changing world.
Choice! Energy Management never claims to know all of the answers but we do like to point out when we are correct. The energy landscape is changing rapidly. The pandemic and politicians are working overtime to make energy topics complex, and we aim to make them simple. The movie Risky Business is a comedic look at a high-school boy coming of age and figuring out the world. The examples above are meant to paint a simple picture of the untold complexities in energy markets, and it is our mission to help your business figure out the energy world. The consultants at Choice! Energy Management are here to guide you through these complexities, saving your business money.
Related Blogs:
LNG Windfall Winners – Not the Usual Suspects
New Year Same Crazy: Regulatory Changes for Energy